THE REBEL HEIR
The only way to save our small town is by working with the enemy … but hearts might get broken in the process.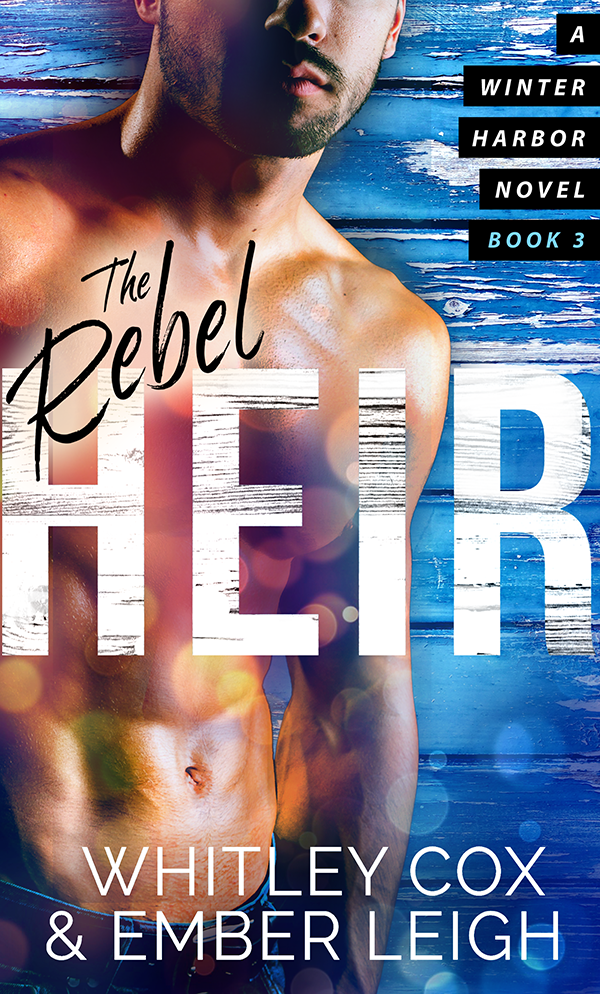 BLURB:
I don't do emotional attachments.
Those who love me get hurt.
I keep people at arm's length and never let women in my bed long enough for the sheets to get warm.
But when the granddaughter of my family's mortal enemy comes to me for help, something in me shifts.
Lily Summers is a sassy, snarky, filter-free blonde with a brain—and mouth—that never quits.
Besides the sexual tension between us that keeps me awake at night, we only have one thing in common: neither of us wants the big city developer coming into Winter Harbor and destroying the integrity of the town with high rises and casinos.
We're an unlikely team, but Lily has passion and Winter Harbor likes her, so I bite my tongue at her non-stop chatter and do what's right for the town.
I never planned on falling for someone—let alone the enemy—but when we give into our attraction, I'm suddenly doing things I never thought I would … and it's all for her.
Together, it seems like we can take on the world—or at the very least, Dunlop Holdings. But when a shocking development rocks Winter Harbor, its accompanied by an unsavory truth about Lily.
Now the question is: who is going to get hurt the worst?
Whether it's me, Lily, or Winter Harbor itself, only one can survive the fallout.

"You want me to be a regular guy, don't you?" I kneeled in front of the tire, glancing up at her before I got to work jacking up the truck. "Too bad for you, I'm not."
The Rebel Heir, Winter Harbor #3
I needed to distract myself. No, I needed to reset. I shoved my project aside and made my way the bathroom across the hallway, intent on a nice cold shower that would remind me of some key truths.
Namely, that Lily Summers was an annoying gnat whose excellent ass cheeks did not mean anything.

The Bastard Heir, Winter Harbor #1
LILY
"Don't forget to send me your recipe for zucchini salsa," I called from my plot in Winter Harbor's community garden as Simone passed me, lugging a giant tote full of zucchini.
"Will do!" Simone replied, continuing to her car in the rec center's parking lot, with her husband, Felipe, who carried an equally large bag brimming with zucchini. Besides one sprightly Azalea, the couple's plot was nothing but zucchini and tomatoes.
"See you next week, Lily!" another avid gardener said with a cheerful wave as they headed for their vehicle after an evening of pruning, weeding, and admiring their crop.
As the sky darkened with the setting early-September sun, classmates trickled away from the dozen raised beds built in a four-by-four grid for this weekly class. Even the gardeners in the long-standing plots—the coveted spots rented indefinitely by those who'd been in town the longest and would probably never let them go to a newcomer like me—were departing. I didn't budge. Unless I kept joining this annual class, I only had my plot for one year. So I planned to make every minute count because … who knew where I'd be next year?
The weather was unseasonably warm, even though we were technically still in summer. But the days were hot, and the nights, although cooler, didn't have me reaching for my cardigan quite yet. I spent most days in a tank top and shorts or some summer dress of some kind. I knew eventually, I'd have to dig out my sweaters and hoodies, but for now, I was relishing this extended bit of sunshine and heat that Mother Nature was gifting us.
"And a little off the top here, and I think we're in good shape. What do you think, Princess?" I bowed my head and inserted my nose into the fresh bloom of my Princess Alexandra of Kent rose, inhaling deeply and growing a little light-headed from the divine smell of tea and lemon. I detected the hint of black currant that this rose variety also boasted and sighed with pride for my girl's beauty. I'd chosen this specific rose as a tribute to my late father since his name was Kent. It was also why she was my pride and joy and I babied her as much as I did. It was like I was spending time with a piece of my father, with his spirit flower or something.
"Looking good, Lily. That Princess Alexandra could win prizes, I bet," Rudy, another local club member said jovially as he passed by me, his arms loaded with chard and carrots from his own patch. "I wish my Ausmus looked as healthy, but I can't seem to get rid of those damn aphids."
"I have extra ladybugs. I'd be happy to bring them next week," I offered, wiping the sweat from my brow.
Rudy's tanned and leathery face split into a grin. "I'll trade you a bag of my zucchini and Roma tomatoes for your ladybugs. There's more there than I will ever use."
"Sounds perfect."
He gave me a friendly wave, then made his way to his car. I straightened the brim of my straw hat and plopped my dirty gloved hands on my hips and proudly surveyed my twenty-by-ten-foot garden, teaming with life. Life that I had cultivated. Life I had nurtured from seed to sprout. My mother and sisters had teased me that I couldn't keep a pet rock alive. So when I saw the flyer for the Gardening 101 class at the rec center, I signed up immediately—hoping I'd show them.
And I was showing them. My garden was green, lush, and healthy. I hadn't killed anything … yet.
Unlike a lot of the gardeners here, I didn't have a ton of vegetables. My plot was mostly flowers. Mostly roses, since roses were my weakness, even though my name was Lily. My oldest sister was Rose, though. Followed by Dahlia and Iris, then me. My dad called us his little bouquet.
That second memory of my dad hit me hard with a pang of longing. He'd always loved puttering in the one we had growing up in Eugene. He'd preferred to cultivate food and herbs, so to also honor him beyond my Princess rose, I planted three things that I could eat and not simply admire with my eyes and nose. I had a pie pumpkin plant I'd named Prudence who I hoped would give me enough pumpkins for some Thanksgiving pies. My bountiful bell pepper plant, Elroy, kept my salads flavorful. And I couldn't forget Mordecai, my grape tomato plant that had spent the summer hemorrhaging rich, juicy fruit that tasted delicious in a Caprese salad.
My stomach rumbled at the thought of a Caprese salad. It was nearly nine o'clock, and I still hadn't had dinner. I'd picked Mordecai clean and his bounty, along with Elroy's bell peppers, sat close by in my wicker basket.
A sarcastic snort next to me snared my attention, and I fixed my expression into a glare, since I knew instantly who that snort belonged to.
"Problem?" I asked, facing one of the few remaining people left in the garden.
Colton Winters. My arch enemy. The wickedly talented classmate with the raised bed diagonal to mine.
"Your dahlias need watering," he said with proprietary wave of the rec center's hose, which he'd been using to water his plants. "They look sad," he added with a mean smirk.
An unpleasant heat crept up my neck. "You don't have any dahlias in your plot, so what the hell would you know about caring for them?"
I couldn't tell if he'd rolled his eyes or not because the jerk was wearing black-lensed sunglasses. We were in the shade of a giant oak, so he was simply keeping them on to be a colossal douche. "It doesn't take a genius to see when a flower is thirsty."
I ground my molars. "I planned to water everything after I was done pruning."
"Sure you were, Tiger Lily." His grin was cocky. "Hey, wanna hear a joke?"
"No."
"What's better than roses around a dick?"
I kept glaring at him. Even though I was curious about the punchline, the last thing I wanted was him thinking he'd piqued my interest in any way.
"Tulips," he said, flashing me an even larger, even dumber smile before snickering. He raised the sprayer attached to the hose. "Here, let me help you." He squeezed the trigger, but deliberately pointed the nozzle at me, soaking me in seconds.
I gasped.
"Whoops. Sorry, Stargazer." He chuckled malevolently as he dropped the hose on the ground beside me—instead of returning it to its home on the side of the rec center—and returned to his plot with a swagger.
I growled and glared at his broad back. He always called me a different variety of lily to bug me. Today it was Tiger and Stargazer, last week it'd been Calla, Turk's-cap, and Easer Lily. Did the man go home and Google lily varieties to add to his arsenal of insults for me each week? I think it would be safe to assume that he did. What an asshole.
Paying him no more mind—or at least trying not to, and now dripping wet—I finished trimming my other roses, cut a trio of my perfect dark purple dahlias for a new bouquet, then grabbed the hose and watered all my babies.
I was nearly done and ready to go home to eat and shower, when from the corner of my eye something light orange—in the now unattended plot diagonal to mine—caught my attention.
Before I could stop myself, I'd made a beeline toward the beautiful climbing rose with its shallow-petalled apricot center and yellow outer cup. This had to be a new bloom because I hadn't noticed this little darling before. And she really was a beauty. I dropped my nose to her center and inhaled deeply. Myrrh and tea with a hint of honey. I was getting good at my scents. Too bad this gorgeous rose belonged to such a massive thorn.
I spun around to see if the prick was still in the garden. If Colton caught me canoodling with his rose, he'd surely accuse me of trying to sabotage his creation or something. The jerk was so suspicious.
I glared with quiet seething at the exquisite rose that belonged to my adversary. And, of course, this organized douche had her labeled—just as he labeled me with his ongoing list of lilies. I growled as I read the name of the rose I'd been admiring—Bathsheba.
"Well, Bathsheba, you're being raised by Beelzebub. Sorry about that." I took another whiff of her fragrant center before letting her be and returning to my plot. I was sweaty, dirty, and happy with my accomplishments, so I gathered my tools, my blooms for my new bouquet, and my veggies for my dinner—and made my way toward the parking lot.
The shiny chrome of Colton's motorcycle glinted under the newly illuminated streetlamp, and I rolled my eyes at how polished and perfect it was. The man probably stayed up until midnight spit shining it every night. Such a pretentious douche.
Where was he? Our class had ended over a half hour ago. And now absolutely everyone had headed home to their families.
I had no family to return to. My plants were my children.
Maybe Colton was lurking unseen in the garden or around the corner of the rec center, waiting until I left so that we didn't have to breathe the same air.
Good. I didn't want his air, anyway.
I couldn't say why Colton Winters and I didn't get along, but we just didn't, and it'd been this way since the first day our class had started in May. He drew people like a honeysuckle draws hummingbirds, even though he never shared much. He was reserved and mysterious. And everyone in our class loved him.
Maybe it was because he was as handsome as he was irritating. As charismatic as he was aloof. And as successful a gardener as he was a vile foe. And I wanted to put a pitchfork in his stupid handsome face.
He was the complete opposite of everything I was—and everything that I'd ever been interested in. He was also nothing like his wonderful oldest brother, Callum, who I had been working with extensively for the past few months. We were determined to save Winter Harbor from the horrible developer, Dunlop Holdings. The multi-million-dollar company was out to ruin the integrity of our peaceful little town by adding high-rises and casinos. Callum had been a joy to work with, and so had his girlfriend, Harlow.
What the hell was Colton's problem? Why couldn't he have been more like Callum? Or his middle brother, Carson? I didn't know him well, but he was handsome and also seemed nice.
Colton appeared to have inherited the lion's share of the jerk genes, while the sexy genes were distributed evenly. He oozed bad boy and rebel, unlike his brothers, who simply oozed sexiness.
His walk wasn't merely a walk. It was a swagger. Like his dick was too large for his pants and he needed to sway from side to side to keep it from getting chafed by the seam of his jeans.
I inconspicuously banged my head against the nearest tree. Why was I thinking so much about Colton Winters? He was a fungus. A parasite. A flash frost in the middle of summer.
And yet, I was attracted to him. And when I was having a hard time getting to sleep and reached for my trusty vibrator Dwayne, I pictured Colton's irritatingly beautiful face more often than I would ever admit out loud.
I'd never gone for the bad boy. I liked men with reliable office jobs. Did Colton even have a job? My type had always been clean-cut, usually with gelled hair, definitely no piercings, well-educated.
Yet, Colton and his infuriating quick wit, his smile, his blue eyes, his pierced ears, his unruly hair, and his simmering disdain for me, drew me to him like a butterfly to a Zinnia.
What was wrong with me?
What was wrong with him? I wasn't a troll who was used to being tormented, and I was smart. Why did he pretend I didn't exist, unless it was to insult me, spray me with water, or challenge my answers whenever I raised my hand to respond to Angela, our Gardening 101 instructor?
Had he sat on his Pope John Paul II and gotten a thorn lodged up his corn hole?
I snorted at that thought and spun away from Colton's motorcycle. Angela's sedan was still in the parking lot. As befitting our talented instructor, she'd been the one to suggest the banana and Epsom salts to improve the taste of my grape tomatoes, and I now wanted to share the success of my bounty with her.
She was probably in her office since she usually spent her kid-free week catching up on work.
I juggled my tools and basket in order to open the rec center's door. Then I made my way through the corridors, past the various art classes in session, the squash courts, and the gymnasium full of pickle ball players. For such a small town, Winter Harbor offered a plethora of recreational programs. And it was great to see so many people taking advantage of them.
When I decided to leave Portland and move to the coast—after a terrible break up with he-who-shall-not-be-named—I'd searched relentlessly for a rental in Winter Harbor, but vacancies were slim. So I settled for a sweet little cottage in Summer Hills, which was forty minutes up the coast.
But I spent a lot of my time in Winter Harbor since I preferred it even though my family founded Summer Hills and my estranged grandfather, who I was trying to get to know, lived there. Not that he offered for me to stay with him in his giant-ass mansion.
Nope. He needed those nine bathrooms and six bedrooms for his cantankerous attitude, his narcissism, his inflated ego, his patriarchal superiority, his scotch collection, and his liver-spot ointments. There was no room for a five-foot-two, brown-eyed blonde with a duffel bag of clothes and a laptop to her name. Oh, and a vibrator called Dwayne. I can't forget Dwayne.
Was I bitter?
Maybe a little.
But I was bitter for a reason.
Nearly every man in my life had let me down in some way. My grandfather—a grumpy jerk who had never had anything to do with his daughter or his four granddaughters. Every single one of my boyfriends—cheaters, liars, losers, and ghosters. I shouldn't include my father on that list, since he'd been amazing and dying of cancer when I was five wasn't his choice. But his absence still stung.
Men sucked and Colton Winters confirmed that with his prickly attitude and piercing blue eyes. Damn those eyes. And the man had pierced ears, too. Gauged, no less, like some rebel.
What a troll.
My pussy spasmed to remind me that I could say he was a troll as much as I wanted, but neither of us truly believed it. She wanted Colton as much as my heart couldn't stand him.
I was bitter and fucked up.
Angela's office was at the end of a long hallway and the door was ajar. Time for tomatoes. I placed my basket and tools on the floor outside the door, picked up the jar of grape tomatoes I planned to give to her, and went to step inside.
But what greeted me before I even put one toe over the threshold was the grunts and moans of Angela being fucked from behind by none other than my nemesis. The aphid to my rose. The thorn in my side. The blight on my leaves. Colton Winters. Angela's chest was pressed into her desk, and she stared at the wall, so she couldn't see me.
I knew that I needed to leave. Run away and pour Miracle Grow in my eyes, but I was paralyzed in place.
Colton was fully dressed, just had his pants down enough to reveal his junk, while Angela appeared mostly clothed, too. Her summer dress was hiked up enough to give him access to her … bits.
His mouth was set in a stern line, his eyes closed, and his brows furrowed as he held onto her hips and pumped forward.
My body temperature went from cool—thanks to the air conditioning in the rec center—to hotter than the damn sun.
I swallowed.
I blinked.
I watched.
Dear God, what was wrong with me? Why was I still watching this?
And why, oh freaking why, was I turned on watching this infuriating man having sex with another woman?
I was sick. And my panties were slick.
Clearly, I was delirious and needed to get home before I passed out or something. Maybe I had sun stroke.
That had to be it.
I turned to go, but not before Colton opened his eyes.
Our gazes locked.
My feet became concrete.
His full lips spread across his stupid handsome face into a cocky grin, and then that smug jerk winked at me.
He fucking winked.
(Available on Amazon and in Kindle Unlimited)